The inaugural Big Half was upon us this weekend. The first half distance on closed roads by London Marathon Events. Mo Farah headlined and put in a stellar performance smashing the distance out in 61 minutes. If only….
With the week of weather we had due to the Beast from the East, I thought it could be an interesting run. It was actually perfect weather for the running – not too cold and the rain held off which was nice.
I actually missed out on getting in this event when it first went on sale as it sold out so quickly. Luckily, I got a place through a fellow club member, Mr Paul Jackson the Head Teacher of a primary school in Hackney. He happened to register the school as a charity for the event in which he offered all our club members and his staff places on the Manorfield Primary School Team to raise money for their new nursery and outdoor learning area. Their target was £25,000!
I myself work within schools and felt that it was a great cause and one in which I would support so agreed to raise the £75 asked. The school have been amazing at fundraising money and they had the pleasure of Callum Hawkins visit the school and decide the winning shirt design which you can see below. if you wish to find out more about them visit their website: http://www.manorfield.towerhamlets.sch.uk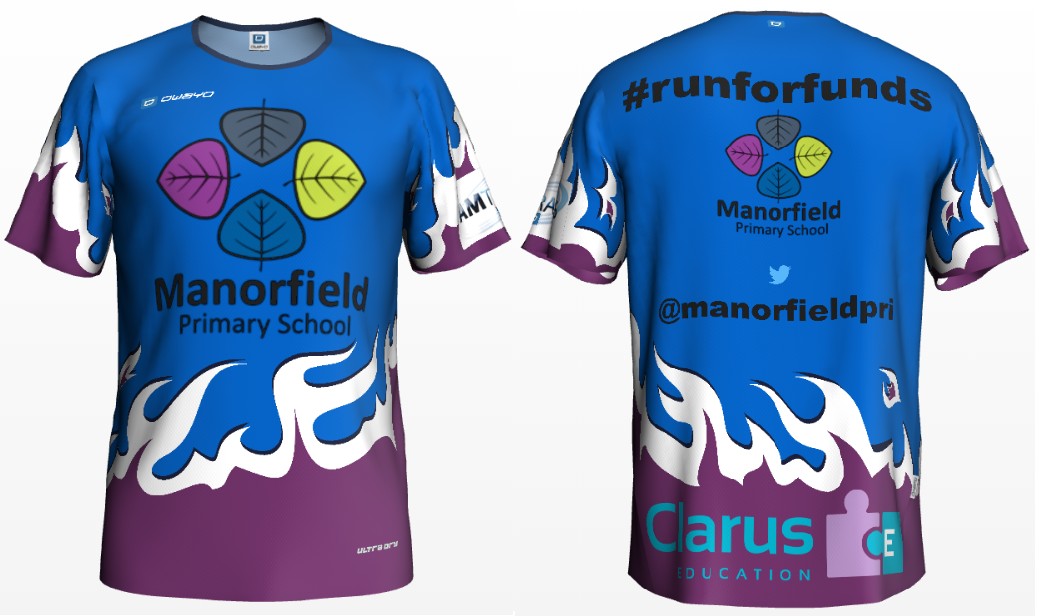 What did they raise? Well the current total stands at over £45,000, so certainly a smashing effort from everyone. They will be able to put that money to good use!
The Event and Performance
I ran with a close friend (Chris Lomax) for the event and we did actually ask ourselves at the end in Greenwich how much we actually took in. Well this recount will probably tell you.
I arrived at around 8:00am and was set up to run in orange wave. I put the bag in the drop area which was slightly chaotic – too many people in a space which was far too small. I think this did depend on when you did this though. I probably left it a little late! I suppose with all new events there will be slight teething issues and you improve them year on year. This probably needs a little consideration.
Once I had fought my way through the bag drop crowds, I made my way to my wave and met my friend. It took a while for us to get going with a few waves in front of us. Whilst waiting, we had a guess as to what the winning time would be in which I had Mo down for 61 minutes – so bang on there! The idea was to run to a 1:45 pace, but I have been struggling with an injury the past two weeks so didn't hold out much hope in sustaining it.
The injury occurred at the Olympic Park 10K Chase the Moon event and I felt it again when warming up for Hampton Court two weeks ago. I've been nursing it and not really done much running since. The difference? Well I ran in pain for most of it, but I could manage the pace. I think running with someone helped with this as I certainly would have slowed down I think.
Condition wise I could also tell I was lacking a little top end fitness and the lack of running over the last two weeks showed. Not in my time however, as I was only a minute or so slower than Hampton Court, but in how I felt particularly at the end of the race. The last two miles were hard work whereas at Hampton Court I felt really strong and could have sustained the pace for much longer.
The crowds were great in places, particularly around Canary Wharf, Tower Bridge and running into Greenwich. It thinned out in other places and running through the Limehouse tunnel was strange for me. The course was fairly straight forward and a little congested at the start. We were running on the pavement to begin with but this also thinned out with a lot more space after 4 or so miles. By mile 10, the realisation that a lack of running over the last two weeks was starting to show. It meant digging in a little. I would have actually loved to have felt as good as I did as at Hampton Court although that wasn't to be today. The main thing was getting through it. What damage I have done to the injury will be seen in due course. If this wasn't the Big Half, I would have almost certainly dropped out. The good thing is I have no more events now until the main one in April – The London Marathon. I'm currently icing as I write this post!
I must say I love the medal. Really different from either the round or square metal bling you usually get.
After finishing, we made our way through to the bag collection. This bit had been organised really well. It also meant meeting our supporters – our wives and daughters who had managed to see us on the final mile running through to the end. We didn't hang around for the Big Half festival and I think the weather recently had put a bit of a dampener on this unfortunately. It was certainly boggy in the park! We had one thing on our mind – food and beer (ok, two things!)
A lovely visit to Wagamamas went down incredibly well! Now just to recover and see what this injury will do. I'm just hoping I don't lose a load of run fitness now. Thanks for reading!