A week after the Eton Dorney sprint distance triathlon saw me take on the Grafman middle distance including a 1.2 mile swim, 56 mile bike and 13.1 mile run just outside Huntingdon at Grafhman water. It's a lovely venue, great for families with a great sand play area for kids.
It's a new event for me and one I booked back in August last year. It falls on the same weekend as the Outlaw Half so the demand is not as great, although looking through the reviews it seemed a good race to add to my collection. The fact that it is only an hour and half in the car from where I live also meant it wasn't too far to travel, unlike last year, where having to travel to Nottingham and Staffordshire for the Outlaw and Ironman. Travelling home on your own after doing one of these events with a 2.5/3 hour journey isn't recommended. Luckily my support team (Kate and Isabel) were here with me again (meaning I would probably fall asleep in the car on the way home – which I did!).
Training
The week leading up to the event didn't really see me tone down any training. I put in a few hard sessions particularly in the pool. I think from my poor swim at last week's triathlon, I needed to test this a little to see where it really was. Like I've said before, technique wise I believe I am better but I have not done any significant tests for ages, so this week I decided to. The main test was the 1000m time trial and I also chucked in 100m and 50m for some more all out efforts to see what they were like also.
The good news was that I hit PBs in all distances. I have improved the 1000m from 18.31 to 17:45, 100m from 1:44 to 1:33 and 50m from 50.1 to 45.1 secs. I know the smaller time trials are actually a lot slower than what I could do, as these were done at the end of the 2K set when fatigued. The 1k time trail was a straight start swim. So there you have it..my swim continues to improve even though I have swam less this year and just concentrated more on technique.
If I'm honest, the only thing really missing from training are my long rides. With marathon training, these were really replaced with long runs so going into the Grafman, the question was whether I could ride well enough…all to be revealed!
This year has been very different for me with training and I haven't religiously followed my plan like last year.
Pre Race Prep
Middle distance triathlon does take some planning, especially the nutrition aspect. Gels, food, liquids and electrolytes and where to store it all need to be considered. As you can see from the photo below, the night before means chopping up clif bars into bite size pieces and storing in the bike bag. I promise it isn't a drug deal!
My Race
The Grafman is not the easiest half iron distance you can do. The bike has 1800ft of climbing and the half marathon run is the toughest I have done in a triathlon. It's a mixture of trail and pavement and certainly hilly in places.
My swim went well. 35min done and dusted. No real issues at all and a solid start to the  race. You had your usual hustle and bustle around the buoys, but I managed to find some clear water and get into my stroke. As mentioned last week, it does take me around 500m or so to actually find my rhythm. The swim consisted of an Australian exit also which certainly slowed things down a little.
The water was actually nice to swim in once you got past the silty bit at the start. You can see it in the pictures below. Transition is very close to the swim exit also which is a bonus as you are out and onto the bike fairly quickly.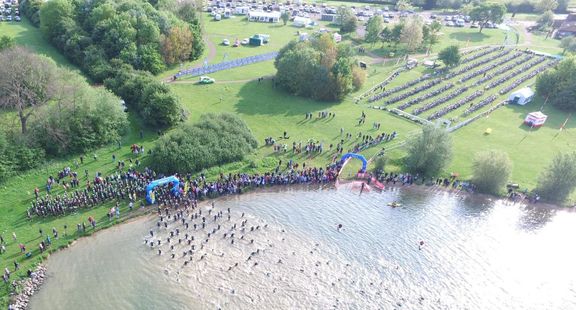 The Bike 
The stats above say it all really. You can see the elevation profile and the course was a series of out and backs. The first hour was fairly quick and I averaged just shy of 20mph. I knew I wasn't going to maintain this for the whole ride, although I was surprised at just how long I did. Right up until 45 miles I was at 18.5mph and then a few tough hills and fatigue set in. Overall I am pleased at the bike leg. It is the fastest ironman bike leg I've ridden and considering the lack of long miles in training, I'll take it!
The Run
Ok – Let's get some toilet talk out of the way. So I started the run with a very long pee! I had been holding it for a while on the bike leg and decided not to stop and wait until I reached transition. I certainly wasn't going to do what the guy I was riding behind at one point did – pee whilst riding. I've heard many a story of people doing this, particularly pros although not age groupers. There I was, riding away thinking something is leaking on this guy's bike. I was just about to call out to him when I noticed it was actually coming from his triathlon suit! Yuk!
I wasted time peeing as I had to wait for the toilet. One bleeding toilet for the whole run! Probably my only moan of the whole event. I started fairly well and the first section of the run is a nice out and back along the lake. I made a stupid school boy error also here as when I got to the first feed station and the turning point, I grabbed some water and just kept running 🙂 50m I carried on for and heard someone calling out. Back I came and onto the course. The run back to race village was easy enough and then you hit the trail part. It's tough. Short hills and lumpy under foot. It's pretty open to the sun as well so you battle with the heat.
I had a few moments of contemplation in this run and again wondered why I bloody do it when it is so hard. The other week I compared the marathon to a half ironman on a par to toughness. Today I reconsidered that point. Running a half marathon after the bike and swim in your legs is tough…bloody tough. If you have ran a marathon before, you'll know the feeling after about 17 miles. Well you start the half marathon in the triathlon feeling a little like this.
Today I finished in 5hrs and 52min. That is a PB for me over this distance by 18mins. I can't complain. I keep improving.
I would certainly recommend the Grafman to anyone thinking of doing a middle distance event. It's cheap in comparison to others, well run and a great venue. Like I said, it isn't the easiest you can do but overall a very good event. I have a nice recovery week to look forward to before I put in a few good weeks of training which I am currently tweaking the plan for. Windsor is my A race this year and I want to go well there.
Enjoy you week whatever you may be doing!